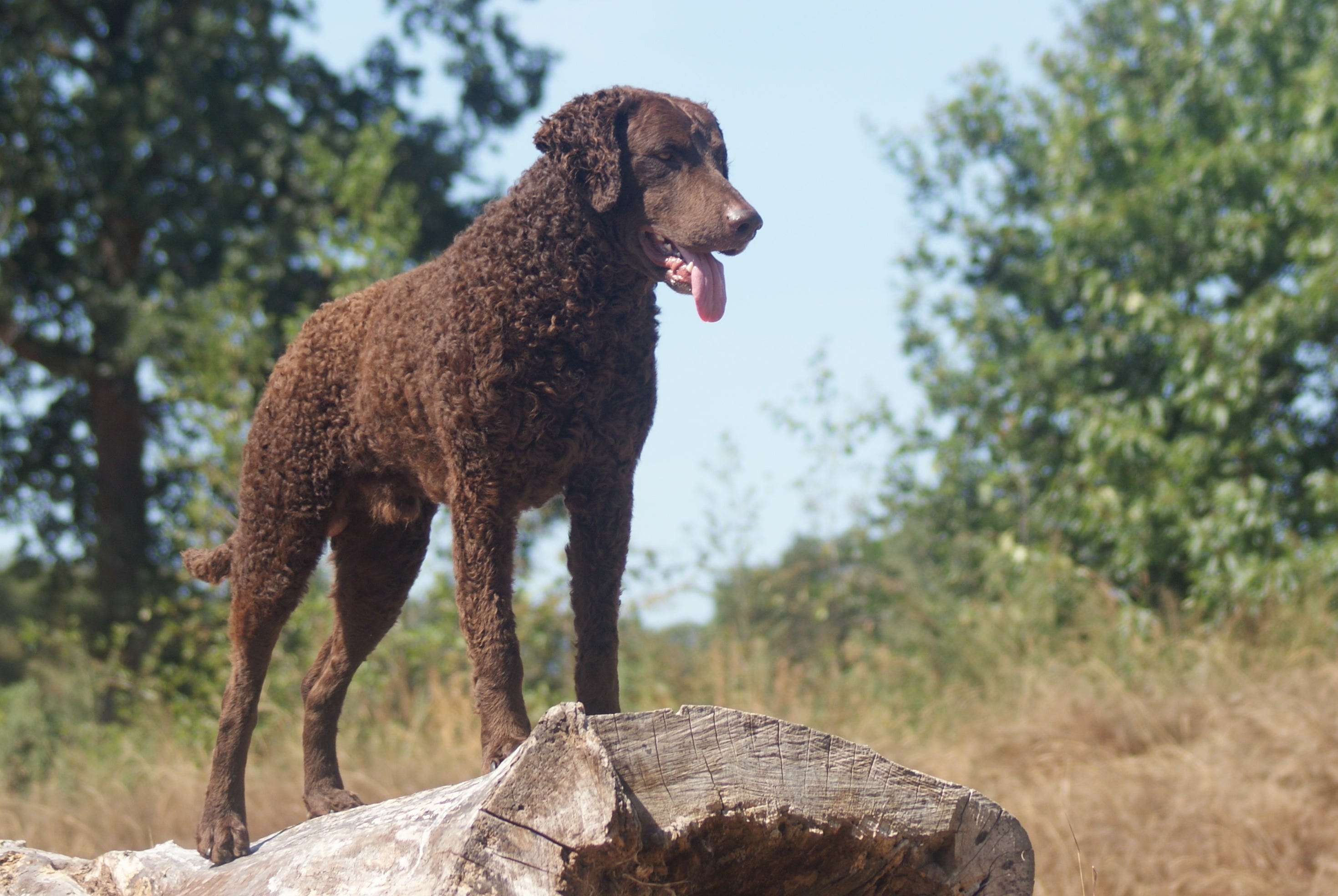 Ozzy - Praetorium Latobicorum's Hideo
Ozzy joined us at the age of six months back in November 2015. He's from the Praetorium Latobicorum's kennel in Slovenia.
Ozzy is a easygoing, but still a bubbly curly male. He's eager to work and likes to do it with/for me.
Sometimes he tends to do a gag and to be a clown. He's very alert without being a barker.
He likes to be petted by strangers, but mostly ignores them. He's kind of a "people user".
However, he's friendly to people known and unknown and he loves kids, especially my nephew (born in april 2017). He's not very much interested in other dogs. He's not spoiling for a fight, but would reprimand a brash dog. After youngster and everyday life training, we attend(ed) the "Begleithundetraining" and dummy training. In our free time we do some mantrailing.

Ozzy got the breeding licence under the FCL (Fédération Cynologique Luxembourgeoise), member of the FCI. He has all necessary health tests done and passed.

He's the father of 21 puppies:
Infinity Curl's C-litter in Germany (VDH/FCI) in 2018
Beautiful Curl of Schwarzseeland G-litter in Switzerland (SKG/FCI) in 2019
Ozzy will not be available for females anymore.



LU CH LU JCH VDH JCH
Praetorium Latobicorum's Hideo
LOL 25095
Ch Middog's Eliott x Ch Heidi Angels of Baranya
born 22/05/2015

Health:
Hips: B
Elbows: Free
Eyes: Free (09/2019)
EIC: clear (Laboklin)
PRA-cord1: clear (Laboklin)
GSDIIIa: clear (Laboklin & Embark)
DM: clear (Embark)
SLC (HUU): clear (Embark)
MH: clear (Embark)

Work&Show:
Character test (Wesenstest)
Body evaluation test (Formwert)
BHP A & B
APD A
WT S & unofficial

LUX Champion
LUX Junior Champion
VDH Junior Champion

Ozzy in the Curly Coated Retriever breed archive: click